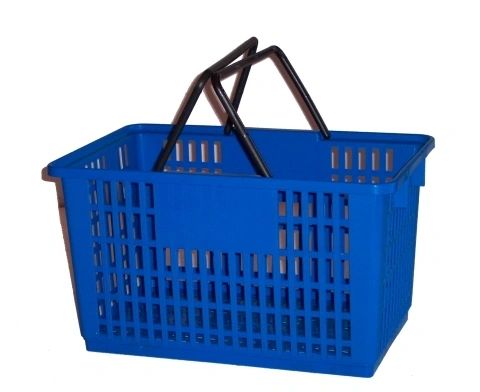 PREMIUM HAND-HELD SHOPPING BASKET
(EXTRA-LARGE SIZE)

Available stock colors: red, green, blue, black
Available special order colors: gray, yellow

Our EXTRA-LARGE size basket has straighter walls
and narrower stacking shoulders. This provides a huge,
33 Liter capacity yet the basket is about the same
dimensions and takes about the same space as a
typical 28L or 30L ("large" or "jumbo" size) basket.

This basket carries up to 20% MORE PURCHASES!

Item#: HSBX2000 (RD, GN, BU, BK, GY, YL)
Capacity: 2000 Cubic Inches (33 Liter)
Dimensions: 12" (W) X 19" (L) X 10.5" (H) (at widest point)
Packaged: 12 Extra-large Baskets/carton

BASKETS CAN BE IMPRINTED FOR AS LOW AS $2.75 EA!

Basket is molded from super-tough, impact modified polypropylene for long life.
Ergonomic handles are rounded, providing greater shopper comfort.
Handles fold inside for easy stacking.
Wide selection of colors are available.
Extra large dual placards provide area for printed, decaled or hot stamped logos.
MADE IN USA