"OPEN/CLOSED" SIGNS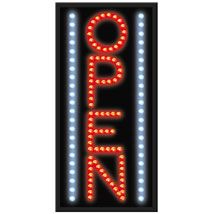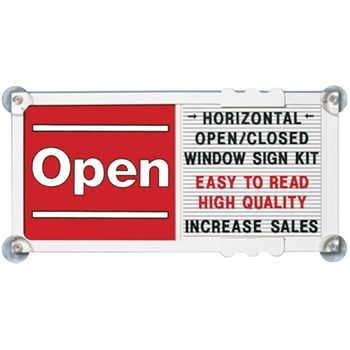 LED OPEN SIGNS

Invite customers in whenever you're open--day or night--with this bright and easy to read display!


LED OPEN SIGN has 2 modes. Sign can remain continuously
lighted or set to eye-catching sequentially lighted letter pattern.
Red "OPEN" lettering with blue border. Lightweight sign is very
easy to install--plugs into any 110 volt outlet. LED Open Signs have
a lifespan of approximately 100,000 hours (10 to 15 years)!

Overall dimensions for horizontal LED open signs are 14" x 24" (H x W)
Overall dimensions for vertical LED open signs are 24" x 14" (H x W)

Please contact us for information on other LED window signs including ELLIPTICAL "OPEN" signs, PET THEME "OPEN" signs, SPANISH LANGUAGE "OPEN" signs, "ATM", "PHONE CARD", "CIGARS", "ICE", "DVD", "SANDWICHES" and "VACANCY/NO VACANCY" signs.
CHANGEABLE OPEN/CLOSED SIGNS
Easily change hours and other messages!
Large, easy to read sign face in bright, fade-resistant colors allow the sign to be seen from near or far. Special translucent material allows light from inside to show through from behind. Each sign kit includes two upper case fonts of 3/4" changeable letters, numbers and symbols--360 characters in all! Four large, super-grip suction cups affix sign
securily to any window.

Overall dimensions for horizontal changeable open/close signs are 10" x 20" (H x W)
Overall dimensions for vertical changeable open/close signs are 20" x 14" (H x W)